Measuring ROI in these times of covid-19 has become more complex. The health situation has favored some sectors over others. The shutting down of stores and the sharp increase in digital purchases are two examples of the many disparities which exist between the different industries.
Such a health context will obviously create an impact on marketing performance and one can naturally wonder whether:
the 2020/2021 health situation will not lead to an overestimation or an underestimation of the ROIs calculated over this period.
digital media will not automatically "over perform" compared to other traditional channels due to the different lock downs.
Metrics 720 has implemented a specific three-step methodology to properly measure the ROI during this phase of recovery.
Step 1: sourcing sectoral "business" data
The first step consists of sourcing data that will identify the "business" trend at the peak of the health crisis.
For instance, a simple glance at the INSEE household consumption index already enables us to clearly notice the "business" trend in two sectors of activity:
Consumer goods
Housing equipment (retail "specialized supermarket »)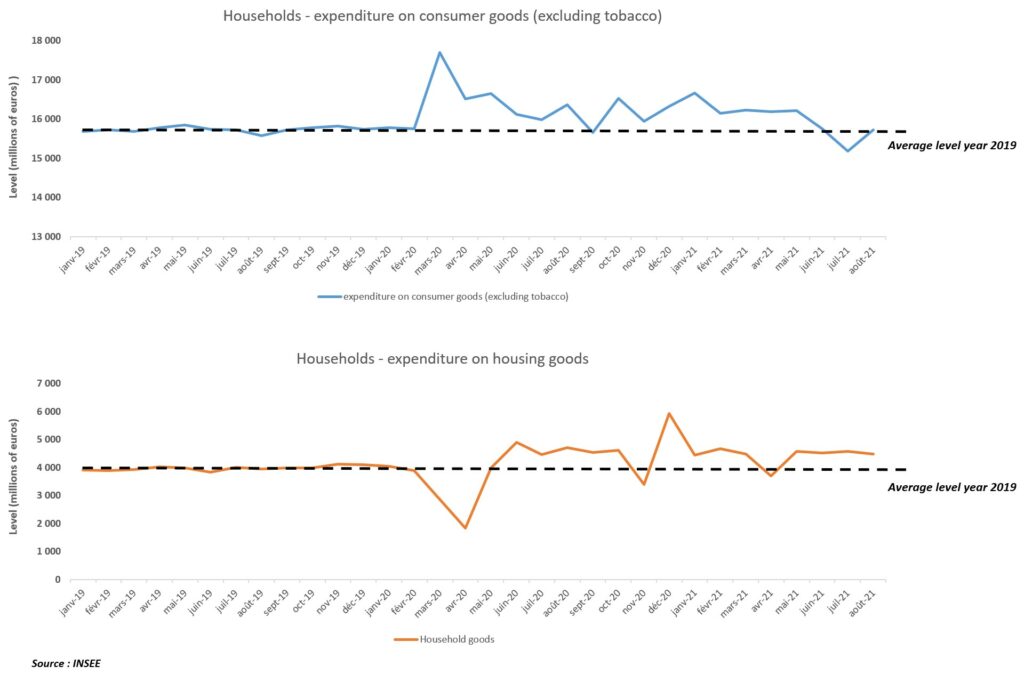 Regarding consumer goods (top graph), we can observe consumption peaks at the time of major health announcements in France, in March 2020 and October 2020 respectively.
Conversely, on housing goods (bottom chart), we can see the drop in sales following store closures during lockdowns.
Finally, we can clearly notice that the level of sales after the lockdown of March 2020 is higher than in the past (on average + 4%) in both sectors.
Aside from INSEE data, many other data sources are accessible in "open data"  and make it possible to identify "business" trends in many sectors of activity. We can notably quote Google Trend data for digital data, STIF data pertaining to transport mobility in the Paris region, but also epidemiological or vaccination data for health indicators.
Step 2: isolating the "cyclical covid-19" baseline
Marketing Mix Modeling ("MMM") are one of the most robust approaches when measuring ROI. Such a methodology makes it possible to isolate a baseline that can be considered as the natural sales of a product, a consequence of its notoriety and of its distribution channel. This baseline is separated from sales related to marketing activities.
Thanks to the data collected in step 1, we can develop the "MMM" models by isolating a "cyclical" baseline on sales linked to the covid-19 crisis, as shown in the graph below:
This "cyclical" baseline will thus capture the effects linked to high / low consumption periods during phases of lockdown enforcement /lockdown lifting.
The latest "MMM" models produced by Metrics 720 have enabled us to estimate the weight of this "cyclical" baseline on the following sectors:
Consumer goods (FMCG)
Household goods 
E-commerce
The results over the last twelve months are shown below:
These initial estimates clearly show consumption surplus linked to the health context reaching up to 25% for the e-commerce sector.
By dissociating this temporary baseline, it is thus possible to precisely isolate the specific contribution of marketing activities on sales and therefore to measure a more relevant ROI.
Step 3: optimising marketing investments by product category
Isolating the "cyclical covid-19" baseline is therefore essential when one wishes to properly measure the ROI over these months of health crises.
This measure of the ROI dissociated from the "covid effects" will thus be more comparable to the ROI measured over previous years. It can thus be used in the elaboration of mid term / long term marketing plans.
Measuring ROI is the first step in optimizing these marketing investments.
Besides, during this phase of recovery, it clearly appears that some products that were "over" or "under" consumed during this period of crisis will need to be specifically optimized.
In order to take this particular context into account, it is therefore necessary to carry out analyzes with a finer scope, no longer on the overall sales but on the product category.
We will, for example, dissociate sales of the "furniture" category from those of the "household appliances" category for household goods.
By refining the scope of work, it will then be possible to isolate the "cyclical covid-19" effects on each product category and to measure a category-specific ROI.
We will thus be able to optimize the marketing budget by taking into account the performance of each product during this period of health crisis.
Accurately measuring the ROI during this recovery phase is essential when one wishes to analyze the change in consumer behavior during the health crisis. Such analysis will thus make it possible to prepare relevant marketing plans in the short / mid term.
This measurement requires a specific approach both in terms of data and methodology so as to fully capture all the effects of the covid-19 crisis.
Metrics 720 systematically offers support on this ROI measurement approach, whether as part of a service or an internalisation process. This support will consist of:
Defining a relevant project scope for optimising marketing investments in the short / mid term
Sourcing the necessary data so as to characterise the effects of the covid-19 crisis
Deploying "MMM" models by isolating the « cyclical covid-19″ baseline
Simulating short / mid term predictive marketing investment plans
Photo credit : free for commercial use